Join Our Facebook Group With Over 73,000 Members!
If you need support, recipes, or just want to talk to other people who are living the Paleo lifestyle, come join us in our completely free private facebook group!
Best Paleo Breakfast Bread
One of the foods that a lot of people are missing when on the paleo or any other low card diet is bread.
There are a lot of recipes for so-called cauliflower bread that is supposed to substitute traditional bread.
But even though the cauliflower bread is still one of my favorites it hardly could replicate the traditional bread.
The paleo breakfast bread, on the other hand, does not have cauliflower in its listed ingredients and probably will be the closest substitute to the traditional bread.
This recipe was shared with me by one of my best friends who is an expert in the paleo diet.
The paleo breakfast bread is gluten free, grain free, dairy free and is suitable for other low carb diets.
It is super easy to prepare and does not require any special skills or tools to make it.
Are You Missing A Sandwich Bread?
A traditional bread was something that my family had really hard time to give up on.
We are all taught and got used to grabbing a sandwich when we are hungry.
We pack sandwiches for our kids to school.
We start our day with a sandwich.
Therefore, whenever we go gluten and grain free as a part of our diet it hurts us a lot.
There are quite a bit of low carb recipes online that try to substitute traditional bread.
The problem is that there are not many tools available on the grain free and gluten free diets that can potentially substitute wheat in the recipes and recreate the texture of bread.
One of the most favorite substitutes for grains and wheat is cauliflower. You will find a lot of recipes for cauliflower bread. It is great and tasty but let's be honest, it is not even close to the taste and texture of a sandwich bread.
Paleo breakfast bread will be probably the closest recreation of a yeast-free bread.
The texture of the paleo breakfast bread is somewhere in between the moisture cake and traditional bread.
However, slices of these bread can be used as a great substitute for the sandwich bread which will not smell and taste like cauliflower.
No More Cauliflower!
When you are on the paleo diet or other grain free and gluten free diet, cauliflower becomes literally your 'best friend'.
And it is
understandable.
The cauliflower is a low starch vegetable that is able to substitute most of the high-starch foods (like potatoes, rice, and even bread).
However, the cauliflower is the cauliflower.
It has a quite strong smell and taste. So no matter how well you try to hide it, you will still smell and taste cauliflower.
As I mentioned above cauliflower can be used in many ways.
One of my favorites is cauliflower bread.
Yes, I still bake it.
And the main reason for that is that it is much cheaper to buy cauliflower compared with the price of tahini paste that is used in the paleo breakfast bread.
So if you do not mind the cauliflower taste and just need something to eat as an add-on, for example, to your soup cauliflower bread will be your best bet.
However, if you would like to enjoy your sandwich in the morning, paleo breakfast bread will serve your need.
Breakfast Ideas
The paleo breakfast bread is great if you really crave for a sandwich bread, especially in the morning.
Add some eggs, bacon, and vegetables in between 2 slices of the paleo breakfast bread and enjoy the healthiest sandwich.
Another great option is to toast the slices.
The best way to do that will be by frying the slices in the pan using coconut oil. The edges become crispy and you could use it as side bread to your breakfast or spread some homemade butter.
You could also dip the toasted paleo breakfast bread into the paleo friendly dipping source (for example, into the baba ganoush deep).
Customize Add-Ons
The best thing about this recipe is that you could customize the ingredients based on your taste and availability of some add-ons in your pantry.
Add seeds or crushed nuts and see how the flavor will change.
You could definitely use the plain base recipe and not to add any add-ons to it at all.
However, I personally prefer to make 'granola' paleo breakfast bread by adding sunflower seeds, flax seeds and hemp seeds as it reminds me of a multigrain traditional bread.
Seeds also add more flavor, health benefits and texture to the bread.
But once again, you are in control of the ingredients, so find add-ons that will work for you and your family!
Paleo Breakfast Bread Recipe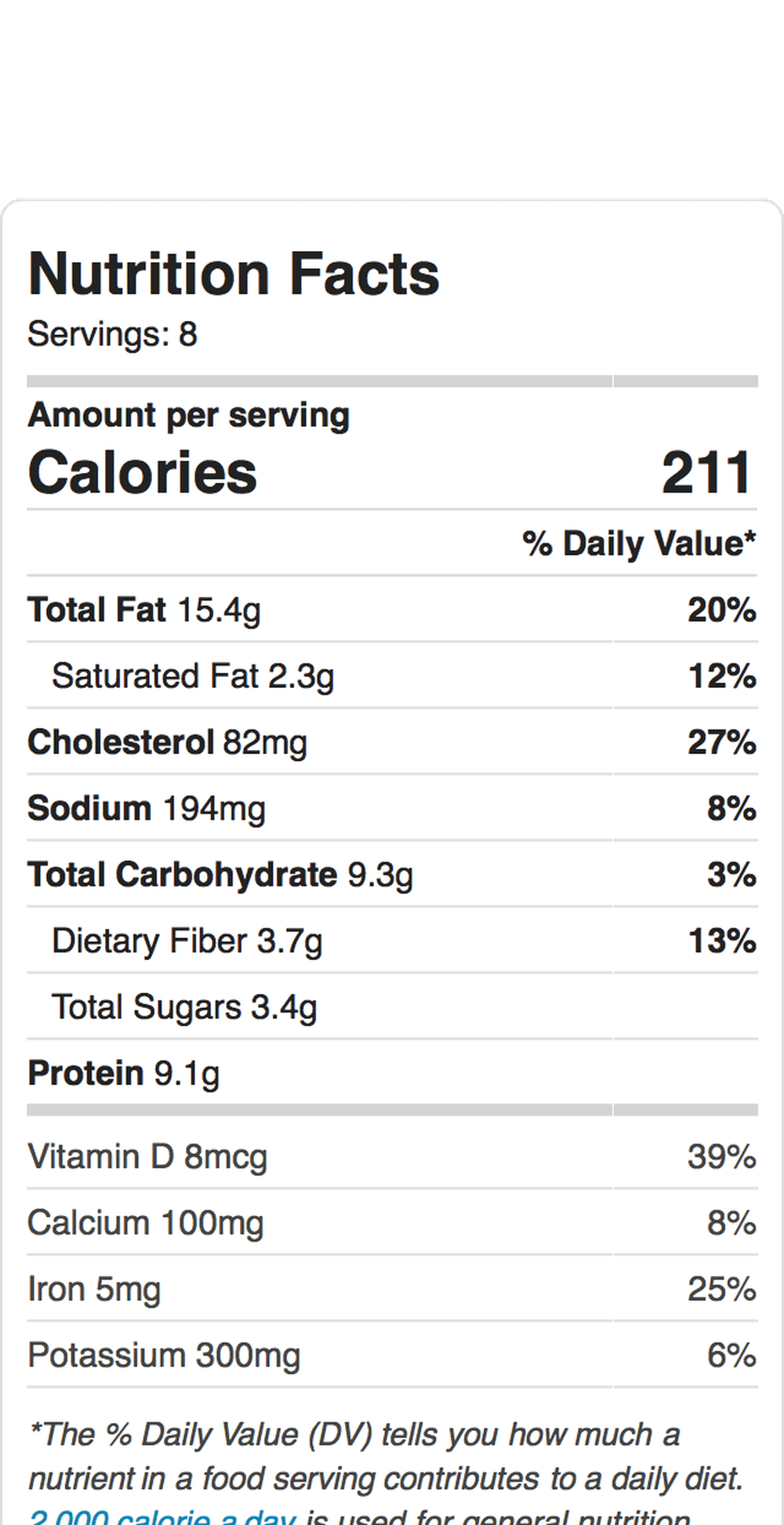 Do you miss sandwich bread while on the paleo diet? Are you tired of eating cauliflower almost in every paleo recipe? Not a problem, try this easy to make and delicious paleo breakfast bread recipe.
Ingredients
Main:
6

tbsp

of tahini paste

4

eggs

2

tbsp

of maple syrup

1

tsp

of baking powder
Add-ons:
0.5

tsp

of salt

0.5

cup

of sunflower seeds

0.5

cup

of flax seeds

0.5

cup

of shelled hemp seeds
Instructions
Preheat oven to 360F (180C)

Beat the eggs with maple syrup

Add tahini paste and baking powder and mix well

Mix in add-ons

Pour the batter into the loaf pan and sprinkle some seeds on top of the loaf

Bake for 30 minutes

Let it cool and serve
Recipe Notes
Tip: make sure to mix eggs and tahini paste very well to avoid the clear taste of eggs in your bread.

Enjoy!
The Paleo diet is getting more and more popular not only among ordinary people but also among medical.. Read More
EASY Paleo Approved Chocolate Chip Cookies That ANYONE Can Make!
What is your favorite dessert? If you ask me, I love chocolate chip cookies. when I started the Paleo Diet.. Read More
Are you worried about your snack times? This is one of the most common worries for a lot of us have when.. Read More
Join Our Facebook Group With Over 73,000 Members!
If you need support, recipes, or just want to talk to other people who are living the Paleo lifestyle, come join us in our completely free private facebook group!